Hello Friday.
January 21 2022
It's wicked cold today, Boston. Bundle up — here's how to keep yourself, your family, and your home safe and warm. 
❄️ Today, despite the sunshine, temperatures will stay below 15 degrees and the wind chill will make it feel like well below zero. 
🍎 Boston Public Schools will be closed today due to the extreme temperatures. The last time the temps dipped low enough to close Boston schools was in 2015.
🚃 Travel times could be delayed — the MBTA has warned that commute times could take longer due to icy conditions and severely cold temps, so allow for extra time if you're taking public transportation.

🐾 Think of your pets and keep them warm by keeping them indoors. They experience the cold just like their humans.
Don't get a brain freeze — there's a few extra things to keep in mind today.  
If you must go outside: 
What to wear — think layers. The more the merrier. Loose-fitting, light weight, warm layers will provide the most heat. 
Don't stay out in the cold too long, aim to limit exposure to less than 30 minutes and try to avoid getting wet. In extreme cold, frostbite and hypothermia can happen quickly. Know what signs and symptoms to look for. 
If you lose power: 
Report outages to your utility company or by calling 311. 
Protect your home:
Make sure your smoke detectors are working properly. Do not use your oven for heat and never bring grills indoors. Take steps to prevent frozen pipes and be sure to keep the heat at a normal level. 
The Low-Income Home Energy Assistance Program is available now through April 30 to help residents who are below the federal poverty guidelines stay warm in the winter. Make an appointment to see if you qualify for assistance. 
Today
Boston's Back to Business Bash | Tues., Jan. 11 | 6-8:30 p.m. | W Boston, 100 Stuart St. | $20+ | The biggest Back to Business Bash network event yet, with guest speakers, door prizes, + resources to help launch your year.
Drawing and Painting Cat and Dog Portraits | Tues., Jan. 11 | 5:30 p.m. | Virtual | $240 | Celebrate your special four-legged friend, whether it is still with us or has passed on, by drawing and painting its portrait. 🐶
Wednesday
Chair Yoga | Wed., Jan. 12 | 11 a.m.-12 p.m. | Virtual | Free | Gentle yoga that can be done on a chair, or standing with a chair used for support.
Thursday
Dancing with the Stars | Thurs., Jan. 13 | 7:30 p.m. | Boch Center, Wang Theatre | $69+ | See the performances from the dancing company + guest stars.🕺
Boston Celtic Music Festival | Thurs., Jan. 13-Sun., Jan. 16 | Times vary | Harvard Square | Prices vary | The 19th annual festival will include plenty of music and tradition — buy tickets for the live stream. 🎵
We have a monthly guide filled with events + activities you can plan for in advance. Click the button below to bookmark ideas for upcoming date nights, family outings, and time with friends.
Weather
13º | Sunny | 0% chance of rain
Sunrise + Sunset 
Rise: 7:12 a.m. 

Set: 4:32 p.m. 
Coming Soon
Blue Bottle Coffee will open a new location this summer at 111 Harbor Way in the Seaport District. The coffee business will be at the ground level of the 17-story tower that is also home to the Amazon offices. ☕ (Boston Business Journal) 
Arts
The deadline to apply for the MFA Artist Project is Fri., Jan. 21. This collaboration project with 12 after-school community organizations in the Boston area provides the opportunity for an experienced artist to create art inspired by the museum's encyclopedia collection. Find more details and apply here. 
Sports 
The Patriots will play on Sat., Jan. 15 in their wild card playoff game against the Buffalo Bills. Kickoff is scheduled for 8:15 p.m. 🏈 (WCVB 5) 
Ranked 
No. 1. Massachusetts has ranked first in WalletHub's recent survey of the best places to raise a family. The survey compared 51 key indicators, including family-friendliness, annual family income, and housing affordability. 👪  (WalletHub) 
Bostonian 
Suffolk County District Attorney Rachael Rollins was sworn in yesterday as the US Attorney for Massachusetts. She earned the title of Boston's top prosecutor and is the first woman of color to hold this position. (7 News) 
Health
The state plans to change reporting of COVID-19 hospitalizations beginning this week. State officials will differentiate between residents admitted to the hospital "for" the virus, and those who were unknowingly admitted with COVID-19. (Boston.com)
*This paid content, brought to you by our advertising partners, helps make this newsletter free.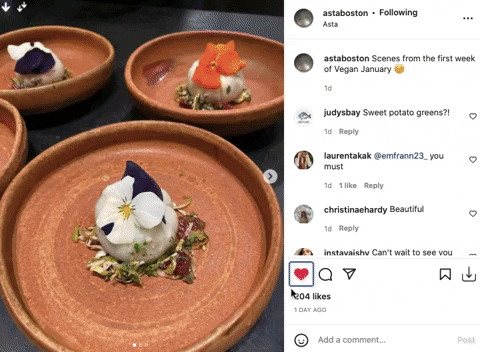 Vegan January — sometimes referred to as Veganuary  — is in full swing. Asta Boston, located in Back bay at 47 Mass Ave., has dedicated a sample menu to all things plant based, including a chestnut dumpling, a turnip with black truffle and apple cider + rutabaga carbonara greens. 
Make a reservation to take a bite of these plates Tuesday-Saturday. 
#DYK that your photos and quotes could be featured in our newsletter?
Just use #BOStoday on social media.
Points Balance
zero? That can't be right 
EARN FREE GEAR
Keep earning and learn other ways to earn points here. Then redeem them for exclusive Boston swag at The 6AM Shop.
Share now with your friends, family, and all Boston lovers! Just click the buttons below:
Here is your unique referral link :  ⤵️
Copy, paste, share + save this in a safe spot…or check here each morning anytime you need it.
Editor's Pick: Here's a secret we couldn't keep to ourselves. Every time it snows more than one inch, plan to visit New England Wich + Craft Co. in the North End to sample their secret menu. Aprés We will include a variety of dishes + some boozy samplings to enjoy with live music. Sounds like a cozy option for a frosty day. 🍽️ 
Missed yesterday's newsletter? See what the stars have planned for 2022. 
Did a friend forward this free newsletter to you?