Hello Saturday.
January 22 2022
…but not in a bad way. We're well into Dry January, a campaign that encourages individuals to voluntarily live sober for one month.

For those who choose not to booze this month, here are a variety of local mocktails to sip on — because your options aren't limited to soda and tea.
Alden & Harlow, 40 Brattle St., Cambridge
Try a Morning Dew made with raspberry, mint shrub, cucumber tonic, and lime demerara. The restaurant also offers the Queen's Cobbler with iced earl grey tea, pineapple, ginger, and lemon. Of course, you can't go wrong with a Strawberry Lime Ricky either.
Citrus & Salt, 142 Berkeley St.
The drinks at Citrus & Salt are known for being sweet and aesthetic, and the agua frescas are no different. Sip on a Fruity Pebble Iced Tea, made with herbal tea, agave, and lemon, or try the Strawberry Piña Colada for a tropical escape in this winter weather.
Hunter's Kitchen & Bar, 110 Dorchester Ave.
Head to South Boston to indulge in a Ginger Snap (spicy ginger, cranberry, lime, and soda) or a Virgin Mojito (mint, lime, and soda). Simple + delicious.

Little Donkey, 505 Massachusetts Ave., Cambridge
For a refreshing mocktail this January, don't skip the Stair Car —  a hoppy refresher with grapefruit, lemon + cinnamon.
Madre Osteria & Bar, 88 Wharf St., Milton
It's worth a 30-minute drive to Milton for these mocktails. Madre Osteria serves up a delicious "Nongroni" with New London non-alcoholic gin, giffard aperitivo, and blood orange. There are also mocktails with non-alcoholic tequila and rum if gin isn't your thing.

Did we miss your favorite local mocktail? Let us know and we'll add it to our list.
Today
Kathryn Schulz in Conversation with James Wood | Wed., Jan. 12 | 6:30 p.m. | Virtual | $5+ donations encouraged | The Pulitzer Prize–winning journalist discusses her debut memoir "Lost & Found" in this Harvard Bookstore virtual event. 📖
Thursday
Jon B. | Thurs., Jan. 13 | 9 p.m. | City Winery | $40+ | Listen to the smooth melodies + contemporary R&B from the Rhode Island-native.
Tai Chi for Wellness with Eddie Watkins | Thurs., Jan. 13 | 2-3 p.m. | Virtual | Free | Tune in with the Boston Public Library for this introduction to Tai Chi led by Eddie Watkins. 
Turkish Kitchen | Thurs., Jan. 13 | 6:30 p.m. | Cambridge Center for Adult Education, 42 Brattle St., Cambridge | $120 | Bake Turkish meatballs with vegetables, jasmine pilaf with orzo + sautéed carrots and spinach with yogurt.
Friday
Motion City Soundtrack | Fri., Jan. 14 | 7:30 p.m. | House of Blues Boston | $40+ | Doors open at 6:30 p.m. to see the headliner + All Get Out. 🎤
We have a monthly guide filled with events + activities you can plan for in advance. Click the button below to bookmark ideas for upcoming date nights, family outings, and time with friends.
Weather
38º | Partly cloudy | 0% chance of rain
Sunrise + Sunset
Rise: 7:12 a.m.

Set: 4:34 p.m.
Travel
Heading to Logan Airport this week? Be aware of the left and middle lane closures between Terminal B and Terminal C through Fri., Jan. 14 at 3 p.m. Find more information here. ✈️
Health
Massachusetts now offers an official digital certificate to show proof of COVID-19 vaccination. My Vax Records checks a person's name, phone number, and e-mail address against the vaccination records in the state's public health database. (Boston Globe)

Coming Soon
Row 34 will open its fourth location in the fall at 314 Main St., Cambridge, in Kendall Square. The local favorite is known for dishes like fish tacos + fried oysters. 🍽️ (Eater Boston) 
Announced
The Boston Athletic Association announced the women's professional racers for the 126th Boston Marathon, describing it as the "fastest and most decorated field" in race history. Among those participating are two Olympic medalists, a Paralympic marathon gold medalist + a three-time Boston Marathon wheelchair champion. 👟(WBZ 4)
Featured
Two local hotels recently won a 2021 Gay Travel Award. Boston Harbor Hotel ranked as a fan favorite and XV Beacon Hotel won in the pet-friendly category. (Fair Play Talks)
Job
We're hiring a Sales Executive to lead our advertising relationships in Boston. This executive would oversee the entire Boston territory, pitching the most relevant + modern media offering in town while earning $100k+ with unlimited PTO. If you'd like to be considered or know someone we should, learn more + apply here.



*This paid content, brought to you by our advertising partners, helps make this newsletter free.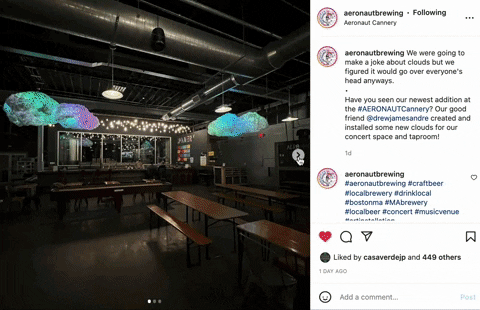 The forecast is cloudy with a 100% chance of great beer. We're loving this colorful new installation in the concert space and taproom at Aeronaut Cannery, courtesy of local lights designer Drew André.

If you haven't been by the Everett brewery yet, visit them Wednesdays through Sundays at 199 Ashland St. for a brew and a bite from Carolicious — reservations are no longer required.
#DYK that your photos and quotes could be featured in our newsletter?
Just use #BOStoday on social media.
Points Balance
zero? That can't be right 
EARN FREE GEAR
Keep earning and learn other ways to earn points here. Then redeem them for exclusive Boston swag at The 6AM Shop.
Share now with your friends, family, and all Boston lovers! Just click the buttons below:
Here is your unique referral link :  ⤵️
Copy, paste, share + save this in a safe spot…or check here each morning anytime you need it.
Editor's Pick: As fans across the Internet share favorite memories of America's TV dad Bob Saget after his passing, I wanted to share this local feel good story.

Fifteen years ago, rock band Guster was performing at the Boston Opera House and asked Saget to make a cameo appearance, knowing it was a long shot. He surprised them all and actually showed up, bursting through a banner on stage to the delight of all concertgoers. He certainly knew how to make people smile.

Missed yesterday's newsletter? Check out our tips for staying safe + warm this winter.
Did a friend forward this free newsletter to you?