Hello Thursday.
December 02 2021
Amazon's new grocery store is moving in right outside Boston. It'll be the first Amazon Fresh location in New England.
The former Big Y just off of Route 1, located at 357 Broadway in Saugus, will be bagging up a fresh look soon. The empty grocery store is approximately 20 minutes away from downtown Boston and has been closed since March, leaving one other main supermarket in the area.
The outside of the building is currently under construction to give the facade a similar appearance to other Amazon grocery stores. 
Since Amazon acquired Whole Foods for $13.7 billion in 2017, the company has been breaking into the grocery business more and keeping the technology + the experience fresh — including the new software to offer shoppers the "just walk out" experience.
Think: Walking in to an Amazon Fresh store, grabbing what you need, and walking out. The software will monitor your purchases and bill your account. 
What can local shoppers expect from an Amazon Fresh store?
🛒 Amazon Fresh is a signature grocery store from the e-commerce goliath that is designed to offer a unique shopping experience in-person or online. 
🛒 Prime members can look forward to perks like free, same day delivery. 
🛒 The Amazon Dash Cart allows shoppers to skip the checkout line by using a smart shopping cart to find items + track purchases.
🛒 Alexa kiosks will be in the store and there to help make special shopping lists + use the service to navigate the aisle and find deals.

The location is expected to open in early 2022. 
Today 
Trellis Lighting at Christopher Columbus Park | Mon., Nov. 22 | 5-6:30 p.m. | Christopher Columbus Park | Free | Celebrate the annual lighting with live music + refreshments fit for the whole family. 
Meet the Author: Lisa Braxton | Mon., Nov. 22 | 7 p.m. | Tufts Library, 46 Broad St., Weymouth | Free | Lisa Braxton will perform a drumming demonstration and discuss her award-winning novel, The Talking Drum.
Tuesday 
Wednesday 
Wicked Retro Night | Wed., Nov. 24 | 5-8 p.m. | Sam Adams Taproom | Free | Play all your favorite retro video games with a local beer or two. 
We have a monthly guide filled with events + activities you can plan for in advance. Click the button below to bookmark ideas for upcoming date nights, family outings, and time with friends.
Weather
54º | Showers | 70% chance of rain
Tide 
High: 12:48 a.m. + 12:48 p.m. 

Low: 6:39 a.m. + 7:13 p.m. 
Travel 
It's Thanksgiving week and to help with the increase in road traffic, all Massachusetts construction work will be suspended from tomorrow at 5 a.m. until Mon., Nov. 29. at 9 p.m. Additionally, MBTA ferries will not run on Thanksgiving + the commuter rail will operate on a weekend schedule, so plan accordingly. (WCVB News5)  
Eat 
Saltie Girl is adding another temporary restaurant just in time for the holidays at 281 Dartmouth St. Pêche by Saltie Girl will open on Dec. 1 and serve up a prix fixe menu — guests can select one of three seafood entrees, which will also include French bread, salad, and dessert. (Boston Eater) 
Featured 
The charm of the North End is pretty undeniable, and it looks like Fodor's agrees. The historic neighborhood landed Boston a coveted spot on the Fodor's 2022 Go List, with special mentions made to Bricco, Trattoria il Panino, Mike's Pastry, and other local favorites. (Fodor)
Read 
Wendy Sanford, a Cambridge resident, has released a memoir inspired by a 60-year friendship. In "These Walls Between Us," Wendy explores an interracial friendship over the years based on her own experiences. (Wicked Local)
Edu
New data shows that Boston Public School enrollment numbers continue to drop. Currently, there are 48,654 students attending 122 schools in the state's largest school district. This is a decrease of 2,000+ students from last year. (Boston Globe) 
Drink 
Far Out Ice Cream has partnered with Night Shift Brewing to create an exclusive coffee blend that will be available at the new Far Out location in Brookline. The medium roast has a sweet berry finish.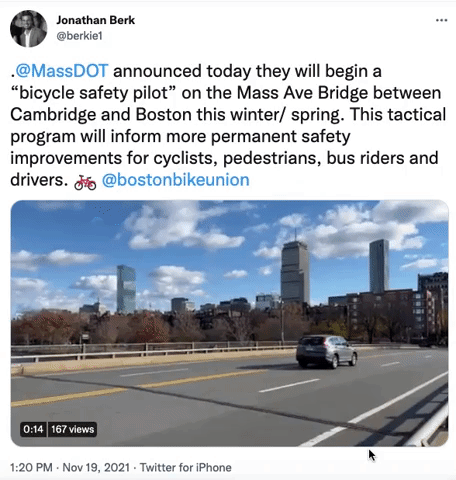 The Massachusetts Department of Transportation will begin a "bicycle safety pilot" along the Mass Ave. Bridge.
The new program will begin this winter + spring season and can help create more safety measures for all who share the road. 
#DYK that your photos and quotes could be featured in our newsletter?
Just use #BOStoday on social media.
Tis' the season to shop for holiday gifts. According to a recent study by WalletHub, Boston's average holiday budget for 2021 is $1,007.

Where are you shopping locally for your holiday gifts this year? Let us know who has the most festive deals in Boston. 

💭 Say Hello: What do you want to know about your city?

✏️️ Want to write an article for us? Find out how here.

👀 Want your business featured in our newsletter? Learn more about advertising opportunities here.

📖 Check out our Editorial Ethics Policy here.
Did a friend forward this to you?
It can be in your inbox tomorrow a.m.