Hello Saturday.
December 04 2021
Black Friday brings out the best deals from all the major retailers, but Small Business Saturday is when the lovers-of-all-things-local come out to shop.
From grabbing a coffee at Thinking Cup or Farmer's Horse to kickstart your shopping adventure to picking up holiday gifts at Neatly Nested, you can make your entire Saturday a local experience.   
No matter if this is your first time in Boston or you're a seasoned local, you can shop small this Saturday + give back to the Bostonians who give us a million reasons to brag about our city. To help you sort out your Saturday shopping plans, we've compiled a list of 12 local businesses to check out for Small Business Saturday.
📍 101 Charles St.
⏰ 11 a.m.-6 p.m. 
🛍️ Add this store to your shopping list for eclectic white elephant gifts, vintage posters + products from local makers.
📍 6 Clearway St.
⏰ Saturday: 12-7 p.m.
🛍️ Known as being hidden in plain sight — this convenience store with a hidden athletic + sportswear shop in the back will deliver all the perfect hidden gems for your holiday list. 
📍 343 Watertown St., Newton
⏰ 10 a.m.-6 p.m. 
🛍️ Reference the shop's holiday gift guide and don't skip the Thanksgiving or Hanukkah collections. If you'd rather shop online, they have gift ideas based on price point. 
📍 364 W Broadway
⏰ 10 a.m.-6 p.m. 
🛍️  Browse the decor collection or give the gift of a workshop at this bloom + booze shop in South Boston. 
📍 338 Newbury St. + 483 Somerville Ave., Somerville 
⏰ 8 a.m.-10 p.m. 
🛍️  After you're done shopping the collection of books, paper goods, accessories, and holiday decor, refuel with a bite to eat. 
📍 318 Lincoln St., Allston 
⏰ 11 a.m.-6 p.m.
🛍️  Explore vintage second hand apparel, accessories, and more at this thrift shop, as well as unique products from artists around the city.
📍 483 Somerville Ave., Somerville
⏰ 11 a.m.-5 p.m. 
🛍️  Shop light up tumblers, hot cocoa bombs, crochet ornaments, dog treats and more — you'll find something for pretty much everyone on your list. 
Gather your shopping totes + friends and family in tow to support local shops for Small Business Saturday and everyday. 
Today
Chloe Moriondo | Wed., Nov. 24 | 7 p.m. | Brighton Music Hall | $20+ | Doors open at 7 p.m., show begins at 8 p.m. 
Thanksgiving Eve | Wed., Nov. 24 | 6 p.m.-2 a.m. | Howl at the Moon | Free | Drink specials, games + dancing before Turkey Day. 
Thursday 
The Fellow Man Project | Thurs., Nov. 25 | 9-11 a.m. | 870 Massachusetts Ave. | Free | Join three New England automotive organizations to support events to support the community starting with the Pilgrim Run. 
Boston Volvo Thanksgiving Day 5K | Thurs., Nov. 25 | 7:30 a.m. | 61 N. Beacon St., Allston | $40 | T-shirts for the first 700 registered runners. 
Friday 
Bruins vs. Rangers | Fri., Nov. 26 | 3:30 p.m. | TD Garden | $150+ | Watch the NHL Thanksgiving Showdown in-person at TD Garden. 
We have a monthly guide filled with events + activities you can plan for in advance. Click the button below to bookmark ideas for upcoming date nights, family outings, and time with friends.
Weather
44º | Sunny | 0% chance of rain
Tide
High : 2:11 a.m. + 2:13 p.m

Low : 8:04 a.m. + 8:39 p.m. 
Biz
A new three-year partnership between The Center of Women and Enterprise and the Massachusetts Competitive Partnership will create a hub for women entrepreneurs. The statewide component of the program is expected to launch by June 2022. (Boston Business Journal)
Number
$122 million. That's the number of unpaid tolls that are currently owed to the state of Massachusetts. The money would be spent on improving the state's highways and bridges. 🚗 (WCVB 5)
Drink 
Sam Adams Brewery has tapped its first barrel aged taproom beer — Death of Glory. The Scotch Ale was barrel aged in Utopia barrels for six weeks and features hints of caramel, bourbon + raisins. The exclusive beer is now available only on draft. 🍻
Sports 
Youth hockey teams can now register for the annual Bruins Academy Holiday Tournament. The four-day long tournament will be held in Haverhill from Dec. 27-30. 🏒
Coronavirus 
Ron's Gourmet Ice Cream, with locations in Hyde Park and Dedham, is offering free cones to children who get the Coronavirus vaccine. Long-time customer Mark Ravine started the fundraiser, which raised $6,000 within days. 🍦 (WBZ 4)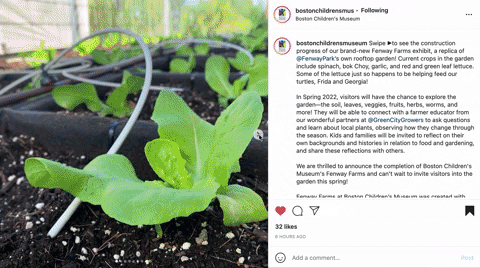 Plant lovers and green thumb-ers have a budding project to explore this spring. The Boston Children's Museum is opening a replica of Fenway Park's rooftop garden, complete with veggies, fruits, herbs, worms + more.
Families and kiddos that visit the garden will be able to connect with a farmer from Green City Growers to learn all about local flora. 
#DYK that your photos and quotes could be featured in our newsletter?
Just use #BOStoday on social media.
City Editor Jess here and I'm excited to take a bite out of these holiday Union Square Donuts. No need to be jelly — you can order yourself a dozen or two to gobble up for the holiday weekend. 


💭 Say Hello: What do you want to know about your city?

✏️️ Want to write an article for us? Find out how here.

👀 Want your business featured in our newsletter? Learn more about advertising opportunities here.

📖 Check out our Editorial Ethics Policy here.
Did a friend forward this to you?
It can be in your inbox tomorrow a.m.